10 Things I Wish I Knew BEFORE HOMESCHOOLING! is a post from Confessions of a Homeschooler. If you've enjoyed this post, be sure to follow Erica on Instagram, Twitter, Facebook, Pinterest, and Google+! Also be sure to stop by her Community to join the discussion or her Store to see her latest items!
Hi everyone! I've been homeschooling for awhile now, and today I wanted to share my top 10 things I wish I knew BEFORE HOMESCHOOLING with you all!
Some of these pearls of wisdom were shared with me when we first started as well, but I was just too eager and set in my vision to hear them out. So here I am today, passing them on to you. I hope you'll find them helpful and that they will encourage you in your journey.
Check out my 10 Things I Wish I Knew BEFORE HOMESCHOOLING video here:
Number 10. Several stores give teacher's discounts to homeschoolers!
Number 9. Get connected.
Number 8. The best curriculum is the one you'll use!
Number 7. There is not one perfect curriculum out there.
Number 6. Less is more.
Number 5. Make it fun! Take lots of field trips and do hands-on activities.
Number 4. Create a schedule.
Number 3. Create your own homeschool.
Number 2. Be flexible. Seriously. Be flexible.
Number 1. Don't worry about what other people think!
Click here to see my 10 Things I Wish I Knew Before Homeschooling written out in blog post format!
–>> Get Connected! I've been so amazed by the participation in the COAH Community. It's been a huge blessing for me and hopefully it has been for you all as well!
Check out my I wish I would've known forum topic to see what others have to say. Feel free to head over and share some of your things you wish you would've known before you started homeschooling too!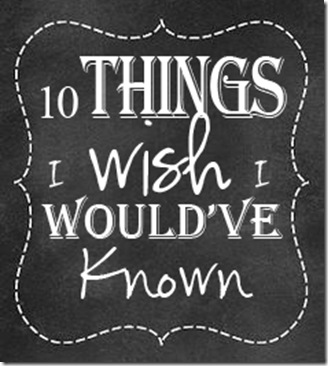 The post 10 Things I Wish I Knew BEFORE HOMESCHOOLING! appeared first on Confessions of a Homeschooler.