Updated Sewing Room Tour–New Floors! is a post from Confessions of a Homeschooler. If you've enjoyed this post, be sure to follow Erica on Instagram, Twitter, Facebook, Pinterest, and Google+! Also be sure to stop by her Community to join the discussion or her Store to see her latest items!
We recently ripped out all of the carpet on our main floor and put in Hardwood Flooring. And since I've had a ton of requests for an updated sewing/quilting room tour, so that's what we're doing today!
And yes, the birdies are still living in here keeping me company while I sew. Let's check it out!
Watch my Updated Sewing Quilting Room Tour video here!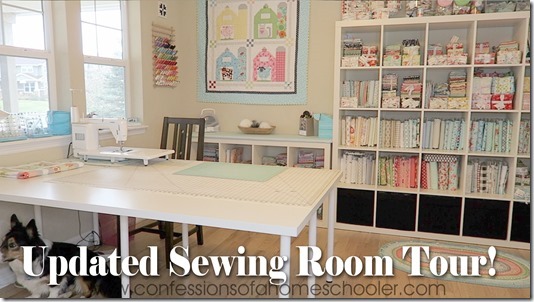 Links to my storage shelves and desk set up!
Kallax shelving unit (I have a 2×4 unit, and a 5×5 unit. I'm sorry, they don't offer the 5×5 unit anymore, the largest you can get is a 4×4 unit.)
Linnmon Table Top (78 3/4" x 23 5/8" mat white table tops – I put two table tops together as shown in the video)
Adils table Legs (I purchased 8 of the white ones. Three on each end and two in the center for stability.)
Links to products mentioned in the video, along with some of my favorite sewing notions:
I hope you enjoyed my sewing room tour!
If you just started quilting or sewing, check out my How to Quilt Series!
The post Updated Sewing Room Tour–New Floors! appeared first on Confessions of a Homeschooler.